Frigidaire FGET2745KW Gallery 27 Double Electric Wall Oven – White
Frigidaire FGET2745KW Gallery 27 inches Double Electric Wall Oven – White
Frigidaire FGET2745KW Gallery 27 inches in white comes packed full with the features that have made Frigidaire a name in cooking appliances. Bother ovens feature bake, broil, and self-clean settings, and the upper oven also converts to convection cooking when needed.
Both ovens feature handy settings such as an instant cancel button, oven lights, timers, start buttons, and numerical keyboards, as well as enough space to cook even the largest of roasts and large windows that pair up with the built-in oven lights to make it easy to check on the status of your food.
Frigidaire FGET2745KW Gallery 27 inches Features: 
Package Content: FGET2745KW range manual warranty
Effortless convection takes the guess work out of convection cooking
Even baking technology ensures evenly cooked foods every time
One-Touch self cleaning cycle
Delay start from 1-24 hours to begin cooking on your schedule
Bake, broil, self-clean, start/cancel buttons, set clock, numerical keypad on both ovens
Height 50.44
Width 24.50
Depth 27.00
Weight 240.00
Color White
Effortless™ Convection
Simplifies convection cooking with automated temperature conversions. You can still cook your favorite family recipes with confidence knowing that your oven will do all the math for you.
Even Baking Technology
Enjoy even baking every time with Frigidaire's innovative Even Baking Technology. Whether it's a large batch of cookies or multi-layered cake, you can rest assured this oven is equipped to handle the job.
Power Broil
A powerful broiler means faster broiling times. With more power even your largest dishes are cooked to perfection.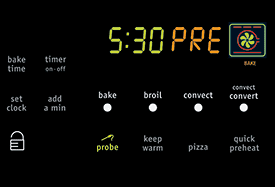 Quick Preheat
This range preheats in just minutes! With the oven up to temperature faster, you can get dinner on the table quicker than ever before.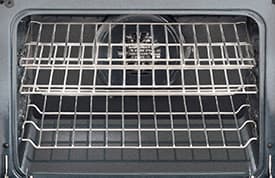 One-Touch Self Clean
Tired of cleaning? Let your oven clean itself with just the touch of a button. With self-clean options available in 3 & 4 hour cycles, it's never been easier.
Looking for high quality home appliances? Visit this site: Myrrh Shop | Home Appliance